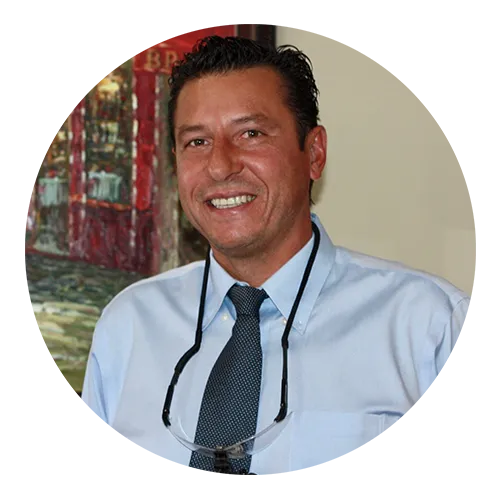 Dr. Vico
One of my primary goals when opening a dental practice was to have a patient centered philosophy. This means that your input, as a patient, is crucial. Knowing your history, needs, goals, and budget help us work together for a solution. Communication helps us work together for a lifetime. My team and I pride ourselves on listening and communicating.
Your first appointment will include an examination, digital x-rays, and consultation free of charge. During our consultation, I will inform you of the results of your examination and the different options that are available to treat what you need, if anything. I expect you to ask questions, express concerns and go over any cosmetic goals you may have. I will explain what will work, what won't work and why. My team and I then work together with you to develop a treatment plan that suits your oral health needs, desires and budget.
We provide our patients with outstanding, state of the art, oral health care services, for reasonable fees, in a comfortable and professional environment. We are dedicated to delivering comprehensive, patient-centered care. We strongly believe that you must feel comfortable with your proposed treatment recommendations. We want you with us for a lifetime and we appreciate having the opportunity to serve you.
Our comprehensive services include implants, surgery, Invisalign, Cerec One Visit Dentistry, prosthetic treatments, digital x-rays, ulltrasonic cleaning, root canal treatments, veneers, Zoom Whitening, noiseless dentistry, Whitening for Life, general dentistry and more. Dr. Vico is one of five dentists in the entire Conejo Valley who offers Cerec One Visit Dentistry.
We really enjoy working with people and are dedicated to creating beautiful smiles. Our amazing office staff, including Lettie, Elena, Isabel, Joleen and Bioleta, provide many years of diverse experience and can assist anyone in English and Spanish.
Dr. Vico offers general, cosmetic and implant dentistry for everyone living in Thousand Oaks, California and nearby communities including Westlake Village, Agoura Hills, Newbury Park and Calabasas.